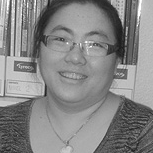 Other than Andrew Lennox, the School's President, there is only one other person who was around back then. Her name is Lily McPake, and she was one of the two original teachers when Glasgow School of English opened its doors back in August 1997.
Or rather, as Lily explains, we didn't so much as open our doors as hired a couple of rooms for the eight students who were the first to study at the School. These students were all from China, as is Lily. Her husband is a Scot who was teaching English in China, where they met and married before coming to live in Scotland.
When she arrived in Scotland, she had a job teaching Chinese at the University of Glasgow while her husband was working at St Andrew's College of Education in the city. Andrew Lennox was, at that time, looking for teachers of English for the Chinese students he had coming to Glasgow to study the language and Lily's husband was recommended to him as someone who could speak both Chinese and English. He, naturally, also recommended Lily! However, we'll let Lily take up the story at this point…
"Our first classrooms were just plain rooms, not at all like the modern rooms and facilities we have now. There was no wifi, no interactive TV, some tables and chairs and a cassette player rather than the CD players we have nowadays.
"Because we only had two rooms, we were not able to split the students into more than two different levels of ability, so I was teaching a beginners/elementary class while he was taking the more advanced students.
"After a couple of years, my husband was offered a job at one of the big Glasgow Further Education Colleges. He's been there ever since then, and I've remained here!
"I've had chances to go elsewhere, but I didn't really fancy them. In particular, I was offered a job in London. I'd gone down there for the interview, but while the job seemed good the people there were not very friendly or helpful, so I turned it down.
"I think that last point is important. One of the reasons why I think Glasgow School has been so successful is that this is such a friendly place. The vast majority of people in Glasgow are really nice and someone will always talk to you or help you if you need help. We are much more welcoming than people are in London. After all my years here in the UK I've developed lots of good friendships and I also have many friends from abroad. They all say that when they come to Glasgow they are amazed at just how friendly everyone is – even though I tell them that before they come here!
"Admittedly, the weather here can be a bit rainy at times, but that's more than offset by the warmth of the people. My experience over the last 20 years is that no-one is put off by a bit of rain, but they won't be happy if the teaching is not of a high quality or the school is not helpful and welcoming.
"English is so important across the world. Obviously, that's why Glasgow School of English succeeds, but I think there are other, equally important reasons. Firstly, we are a small, privately owned school. We don't have big classes and once a class gets over 15 people we create another class. At the college where my husband teaches they have a lot of asylum seekers and classes of 20 and over. Our smaller class size means that we, as teachers, can give more attention to the students and there is more time for individuals to speak the language.
"Finally, you asked me 'what's the best thing about the School?' Well, I'd say that there are several 'best things'! Firstly, Andrew Lennox, who set it up all those years ago, is amazing. He goes all over the world and works so hard to market our School. Secondly, because we're not too big, there is not too much bureaucracy: rather there is much more flexibility and if you need time off (for a family issue for example) then there is usually some way to allow this. We all work together for the good of the School and that shows in the feedback we get from the students. It's a great place – otherwise I wouldn't still be here, 20 years after we took our first, tentative steps with those hired rooms and eight students!"