When students and agents are considering which school of English to study at in the UK, they take many different things into account. They want to know: is the school accredited, is it in a big city, does it have a programme of events and activities, is it a cheap place to live and study and, of course, does it have a good reputation for the quality of its facilities and teachers?
It's easy for any school to make claims about the city in which it's based, or its programme of activities, but important as these are, the key factor in any decision to come to the UK to learn English is the quality of the school and the teaching it provides. Reputations are hard won, and equally hard to maintain.
Glasgow School of English has a full round of official inspections, but we also ask our students to fill in a quarterly survey, where they can be as honest as they like about their experiences with us.
Our last survey covers the first quarter of 2017, from January to March, and we're delighted to say that we have received excellent reviews and comments from our students. The full details are shown below, but perhaps the most important one for anyone thinking about coming to learn English in Scotland is that 98% of our students would recommend us.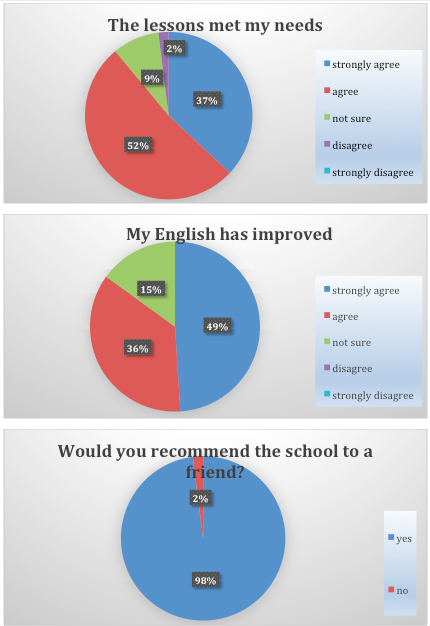 Some students added comments. A representative sample of these is shown below.
"The office staff are very kind."
"My class size with 8-10 students is good"
"The location in Glasgow is perfect!"
"Thank you for everything."
"It was a great experience to be here. Thank you and best wishes."
"It was a pleasure to have met you and I look forward to see you again."
"I appreciate the school. All was very well. I'm looking forward to come back."
"I think I will come back in the future."
"Here I met wonderful people who I'd like to keep in touch forever!"
"I'm really sad to leave! And I will spend 15 days travelling in Scotland. We had an amazing IELTS teacher (I got 7/9).