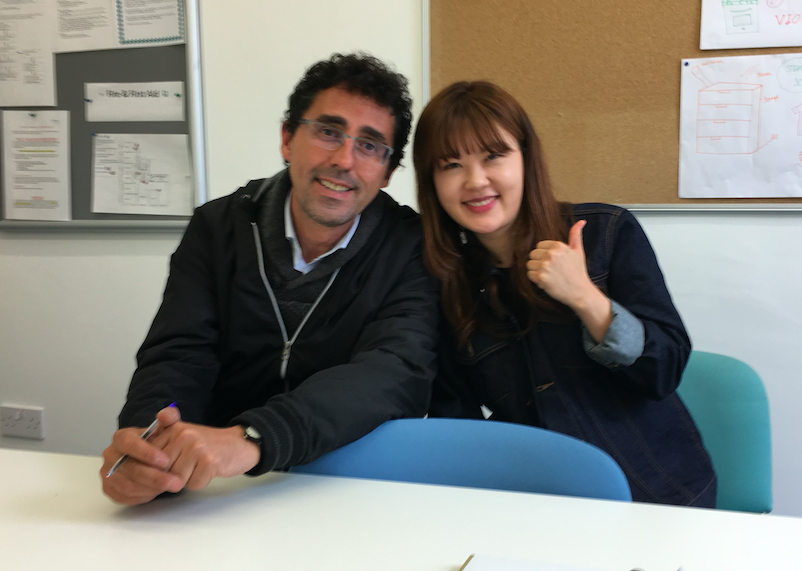 Hye Yeong Hwang comes from Seoul in South Korea. Julio Sanchez comes from Cádiz but works in Sevilla in southern Spain. Both of them are pictured here and are studying at Glasgow School of English. I met with them in the School and we had an interesting chat about what they think about Glasgow, Scotland and the School in general.
Neither had visited Scotland before, but Hye Yeong's husband had studied for an MBA at Strathclyde University (probably the best Business School in Scotland and one of the best in the UK) so she came here six months ago and her English is improving a lot. Julio had only studied English for one year at school in Spain and has only been at Glasgow School for a week, but his English too is improving considerably.
Both of them agreed that one of the big attractions of Glasgow as a place to study is that it's a lot cheaper than London and some of the other big cities in England. They also agreed that the teachers at Glasgow School are very good. Julio explained how his teacher is helpful, friendly and uses great examples to help him improve his English. "The hour in the classroom goes very quickly", he said, "and that is because the class is interesting and fun".
Hye Yeong agreed, telling me "my teacher is kind and friendly too and when I don't understand a word she helps me learn it".
Julio and Hye Yeong told me that when they studied English in their own countries, there was a focus on grammar rather than actually speaking. Here, they said, it's great to be able to practise speaking in the classroom.
I asked what they knew about Scotland before they arrived. Hye Yeong said, "whisky and golf"! She plays golf and she knew that Scotland, and in particular St Andrews, is famous as the "home of golf". Julio said the weather is "different" from southern Spain but he finds Glasgow a beautiful city and he has enjoyed visits to the Cathedral and to the Riverside Museum and Tall Ship. You can see pictures of these trips on our Facebook page.
Finally, I asked what they particularly liked about Scotland. Julio, who works in Physical Education, said he really liked the fact that no-one smokes outside. "In Spain, this is not enforced like it is here. It's much healthier here and no-one drinks outside in the streets either". Hye Yeong told me that she loves fish and chips, and also our black (blood) puddings!
Interview by Alastair Blair