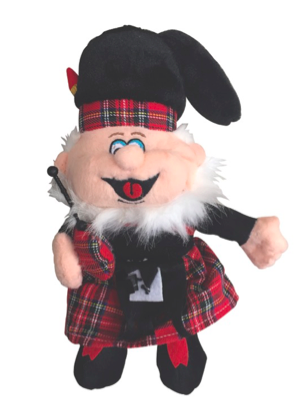 Well, we trust that, if you celebrated it, you have had a very enjoyable New Year. In our country, there are lots of traditions associated with Hogmanay, as we call the 31st of December, and the New Year. Perhaps the best known is "first-footing," when neighbours and friends call round to each other's houses to be the "first foot" – the first person that their neighbour sees on New Year's Day. Traditionally, lumps of coal were brought, along with (as you might expect in Scotland) a bottle of whisky!
However, as a major language school, we are well aware that there are many different ways of celebrating the arrival of the New Year and, of course, different countries and cultures celebrate it in different ways and at different dates. We believe that in Poland there is a legend that Pope Sylvester captured a dragon which would have eaten everyone on earth and set fire to the skies. For the Polish people, New Year's Eve is "St Sylvester's Eve," when they celebrate this story that the world did not end at the end of the year.
In Russia, it's good luck to start the New Year without any debts, so people try to pay off their bills and other debts. In the last 12 seconds of the old year, Russians make secret wishes for the coming year.
The Chinese New Year is, as you probably know, not at the same time as ours. Instead, they celebrate between January 21st and February 20th, depending on the Chinese calendar. Some Chinese paint their front doors red, because red symbolises good luck and happiness. They also put all knives away for 24 hours, because if someone cuts themselves that would cut the family's good luck for the New Year.
In Denmark, people like to smash plates at New Year. This is said to bring good luck for the next 12 months, so if you are in Denmark don't be surprised to find a broken plate on your doorstep on January 1st!
In Brazil, lentils are associated with money, so at New Year you might see someone eating lots of lentils!
In Korea, the first day of the lunar New Year is called Sol-nal and it's the day to renew family ties. You might also see rakes and sieves on the outside doors and walls of homes: they are put there to protect the families inside from evil spirits. On New Year's Day people wear new clothes made with five colours (red, white, blue, yellow and green), symbolising a new start.
Finally, New Year is also a time when people make resolutions which they try to keep in the months ahead (most people break them, but that's sometimes part of the fun!). However, no matter what country you are from, this is a time for looking forward and thinking about all the good things you can do in 2018. And if you thinking of coming to the UK to study English why not make a resolution to come to Glasgow School of English – we'd be delighted to see you and it could be one of the best decisions you've ever made!